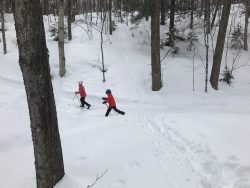 Open, 24º at 7am. Forecast high 34º. Sunny this morning, clouds moving in. Snow starting overnight and continuing into Wednesday, forecast 6-8 or 8-12 inches.
March weather is here. And it has been fun. Snow and good skiing. More snow more good skiing. A day or 2 of boiling maple syrup. A really great start to March.
Martha not only saw the mink slides and the otter slides. Martha saw the mink. They each stopped for a stare down. He held still long enough for Martha to think get out the camera, but not long enough to get the camera and take the picture. ...