ra-5a4bd91746f71523
Wild Wings Ski Touring Center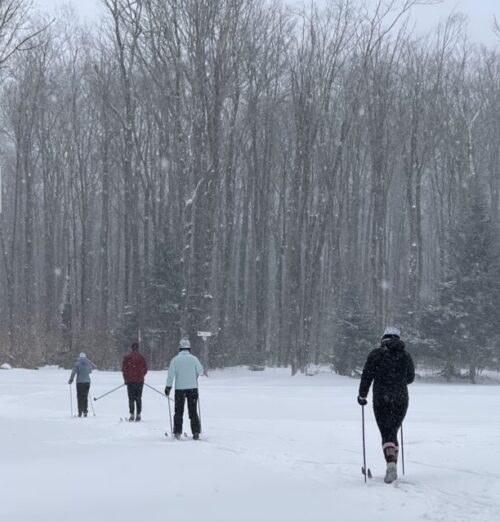 Wild Wings is a family friendly Nordic ski touring center offering some of the best cross country skiing in Southern Vermont. See our 2018 award from Vermont Sports Magazine. Our trail system has traditionally served only classic cross country skiers, but in 2018  we built a  skate trail to accommodate both classic and skating disciplines and this led to widening more trails with a skating lane. We are just 30 minutes or less from Manchester, Ludlow, Jamaica, Londonderry, Winhall, Weston, Stratton, Magic, Bromley, and Okemo. To help you find us, we have provided a map and directions on our FAQ page. Our hours are from 9:00 a.m. to 4:30 p.m.
A converted horse barn houses our rental shop and warming room where we have classic rentals to fit all sizes: skis 70 cm. to 210cm and boots from kids size 9 to adult size 15. We also rent snowshoes for those in your party not ready to try skiing. Finally, we are a family friendly outfit so bring your younger children along and ski while they enjoy the ride behind you in a pulk sled.
Ski Trails
Simple yet entertaining loops comprise our trail system, so you won't need to check the map every few minutes. This also ensures you won't collide with anybody and gives a sense of solitude, even though you're never truly alone on the trails. All together there are 25km of trail 10km of which have skate lanes. See our Trail Map page for more detailed descriptions of our trails. We recommend you subscribe (right column or below) to the daily update on our Skiing News blog to get the latest information and trail conditions.
Green Trails
The beginner trails at Wild Wings offer gently rolling terrain alongside forests, brooks, and beaver ponds.
Blue Trails
The intermediate trails have more hills than the beginner loops. You need to be confident in your ability to herringbone and snow plow to ski these trails.
Black Trails
The most difficult trails add even more and steeper hills. To ski these trails, you need to be able to herringbone, snowplow, and turn while descending.
Call with any questions, 802-824-6793.
A Cross Country Skiing Primer