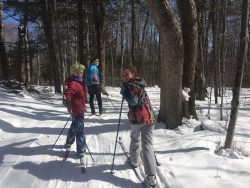 Open, 17º at 7am. Forecast high 33º.
Trails will be packed, no tracks set. It is almost rock solid under the new snow. Not the best conditions we've ever had, but a beautiful day to enjoy the woods. And quite a change from Wednesday's 66°.
2 1/2 inches of snow Thursday afternoon. Fell as wet snow, and has now dried out. Ian is in the groomer and is going to see how much skiing he can get you. Turkey, Woodcock and Snow Goose to start. Then adding the Grouse and Goshawk, and the Lower Blue Jay. Check in when you get here to find out exactly where we are at in the grooming process. Our best guess is skiing today and tomorrow, and then day to day, until we get more snow. ...