ra-5a4bd91746f71523
The Wild Wings Gateway to the West
Open. 10 km. Woodcock, Snow Goose, Grouse, Turkey, and Peregrine.
26º at 7am and cloudy. You will need maxiglide. 40 inches of snow in November. Chuck keeps the records for Peru for the National Weather Service, and this is a record.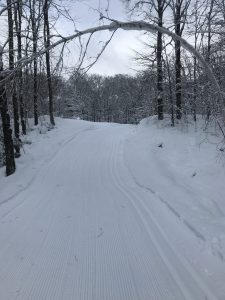 The skiing is good. Ian is out with the Ranger (new groomer from last year) and the Ginzu, new last year. Most of the sticks and branches have been picked up. Ian has been around and around and around. with the snow machine, groomer and chainsaw.  You may still come across a branch that has just fallen. Please chuck it aside.
We were only without power on Tuesday for about 7 hrs. There are still people in Londonderry, South Derry without power, and the power company hopes to have all the power restored by late Saturday. Ian still has no power. Shower and washing machine here.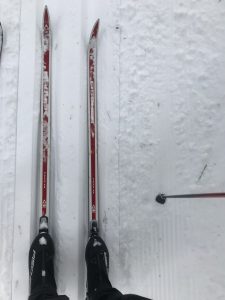 Our friend, Bill, has been skiing a lot, 10 laps yesterday around the Peregrine. He has been skiing on his skis from the 1976 Olympics, he used them in the relay. They have mohair strips on the bottom. He told me in the snow we've had this November they have out skied any of the new waxless skis. We used to have mohair skis, and the extra mohair strips. We should have saved them.