ra-5a4bd91746f71523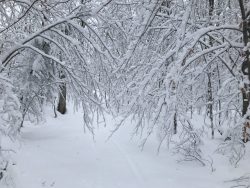 Open
29º at 7am
22 inches of snow on the ground. 4 inches of snow in the last 24 hours.
Open today as a work in progress. The picture is on the Turkey and yes, in places, you do feel like you are skiing through a tunnel. The snow is still in the trees. Sometimes you are skiing around and you hear the plops of snow falling out of the trees and get to see the ploof of snow hitting the ground. Grateful if it is not down your neck. There are sticks falling. If you see one please remove. Ian has been round and round picking up branches and sawing trees out of the way. Dick has been around picking up branches, tossing them out of the way and he even using the loppers to cut  the low hanging branches out of the way. I skied around (skied, meaning I had skis on my feet) and picked up branches and sticks. Amazing how sometimes the smallest little twig turns into a stick under your skis.
So, yes, you can come and ski. With all the limitations above. AND you will need maxiglide on your skis. So dig it out and put it in the car, or buy some when you get here.