ra-5a4bd91746f71523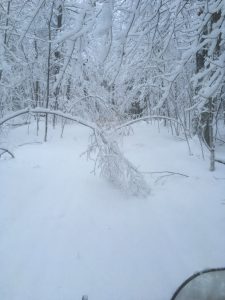 Closed. Open to pass holders willing to pick up sticks.
28º at 7am.
Best guess at storm snow total, 14.5 inches and snowing.
20 inches of snow on the ground. Snow total for November 36 inches.
Yesterday there were places where I was walking through snow up to the top of my thighs. And places where I was shoveling 6 inches of snow.
The snow is heavy and wet and still stuck in the trees. The promised wind did not happen, the trees are still heavy and bent over.
Ian is out packing and picking up sticks and moving tree branches out of the way and trying to avoid tree branches falling on him. This has been quite the storm. We were without power for about 7 hours. And I know there are still people still without power. The power crew are hard and work, and they are saying this is as bad as they have seen.