ra-5a4bd91746f71523
Open. 10km.
25º at 7am. Forecast high 33º.
Skiing is good for early December. The low spots haven't quite filled in, so the trails are slightly bumpy (but well covered). Woodcock, Snow Goose, Turkey, Grouse and Peregrine are open.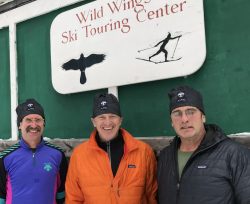 If the weather forecast is correct we will be closed on Sunday and will reopen ASAP.  The forecast has colder temperatures, but I didn't see snow flakes.
Look at this crew. The labor of love is what keeps this place open and you skiing! In their new "team Peregrine" Skida hats are Cliff, photo left, Web Master extraordinaire. He is also the GPS specialist helping us update the map. Middle, Jonathon, Ian's sidekick and instigator. He spear headed raising the extra $$ to get the Peregrine smooth and wide. And he supports Ian out on the trails when Ian needs an extra person at 5am. And you all recognize Chuck, photo right. The plower, chain saw operator, trail mower, or token crumudgeonly Vermonter in the shop to welcome you with "how can we help you" or " whatta ya want". More team pictures to come as the rest of the "team" get their hats!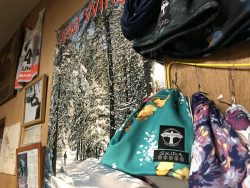 And we have hats for sale from Skida, the Vermont ski hat company.  They have our label on them! How cool is that. The are about 15 in shop. And 3 neck gaiters. If you want one don't wait.