ra-5a4bd91746f71523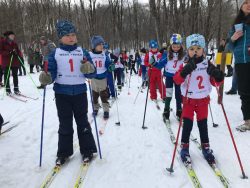 28º at 7:00am.
Forecast high 34º.
The 11km that are open are really ok. Ian groomed yesterday.
We had 80 plus ski racers. The kids in the picture above had to ski a shortened Turkey. I was told after the race, the Turkey is really long when you are trying to ski your fastest.
Ski today. Tuesday's forecast is for rain, if the forecast is correct, we will be closed. And then we will have to reassess after the snow refreezes.