ra-5a4bd91746f71523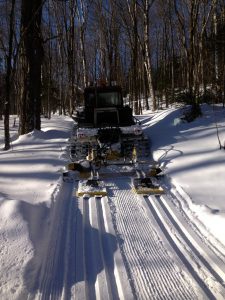 27º at 7:00am.
Forecast high 34º.
The 11km that are open are great. Ian is out in the snow cat grinding up the snow up and putting a track in. Woo-hoo. Ski today. Tuesday's forecast is for rain, if the forecast is correct, we will be closed. And then we will have to reassess after the snow refreezes.
We do have a little kid ski race here this morning. You can come whenever you want, if you come early, park among the parents, get your skis on, cheer on a kid, and get out on the Woodcock/Snow Goose and you will see the one or two people you usually see. On the Lower Blue Jay you will also not see many skiers. You may also wait until after 12ish, and they will be gone.
The open trails: Turkey, Woodcock, Snow Goose, and Grouse, Goshawk, Lower Blue Jay. 10 km. Good skiing.