ra-5a4bd91746f71523
Open with 10km. Woodcock, Snow Goose, Turkey, Grouse and Peregrine. Skiing is good, what are you waiting for?
15º at 7am and the sun is shining. Expected high 25º.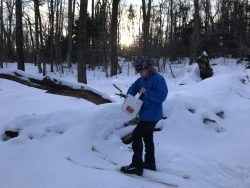 The skiing is good the weather is great. Get out and ski!
This is the grandkid that was was here yesterday. She is almost 8 and in second grade. She attended a yoga class yesterday morning. She along with everyone else felt way better when we were done with yoga. (She looked like she might have dozed off in savasana, also not the only one in class.) Then we skied. We skied the Peregrine. There are so many animals tracks. The snow was perfect. Mouse, squirrel, rabbit, coyote. The hare up on the Peregrine in the balsams are all over and more than one or two. It was so obvious they are all searching for food. She realized food searching would be pretty much a full time job. And in her imagination they came home empty handed. So, home we came. She cut up 3 apples, 3 carrots, all the leftover kale, and them filled the little bag with bird seed. We put the bag in my pack basket and off we headed on the Peregrine again. She stopped at any place with animal tracks that she thought looked like the entrance to someone's home. The definition seemed to require a roof, something that acted like a door and tracks leading to and from. She then threw hand fulls of her mixture down the hole and around the door, and found such joy in imagining these little creatures coming home to a surprise meal. She kept saying, "This is Christmas."  So while you ski the Peregrine smile each time you notice some of this joy spread around.