ra-5a4bd91746f71523
Open. Woodcock, Snow Goose, Turkey, Grouse and  Peregrine.
22º at 7am, and cloudy. Expecting sun later today.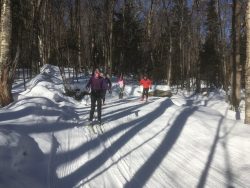 The skiing is good. It is really good. I've seen the forecast is it going to be this good for a few days. So, find an excuse to not be at work for a few hours and come out to ski.
I skied the Peregrine yesterday with the little elves,(grandchildren) to check on the holes, (homes) where we dropped our special treats. The carrots and apples were moved, gone or munched on. Lots of bird seed was eaten. But the kale was all still there, imagine that. They spied one little mouse hiding in a corner of his house and gave him extra bird seed.
The Peregrine, the new trail, skis beautifully! It is designed for skate or classic. It is fun and skis well with less snow. The result of lots of excavator work and being up on the hill so the water drains down. It winds it's way all over up above and includes parts of the old Lower Blue Jay and Goshawk. It starts at the end of the old field by the wood piles and goes up the hill. It was confusing to me when I tried to map the new trail in my head using the old trail in my head as markers. If you can just go ski it and follow where it leads you will be good. There are some steep ups and downs, but Ian had made short cuts around if you want to do that. If you have any questions, come on in and ask. We are so excited about this trail and love to talk about it.
Here is a little video of the Peregrine.
And if you still need to buy your season pass here is the info. Just drop off or mail a check. The address is on the bottom of the flyer.