ra-5a4bd91746f71523
10 km Open. Woodcock, Snow Goose, Turkey and Grouse. And Peregrine!
-1 at 7am. Expected high 20º, and sunny.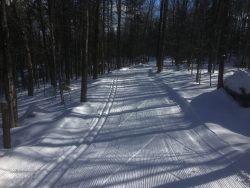 Ian groomed yesterday trying to scrape and smooth out the little ups and downs on the trails. It helps. Less snow does means you feel the little bumps and humps more. All the shoveling and bough Chuck, Dick and Ian did out on the Woodcock, Snow Goose helps a lot! And the Peregrine is skiing really nicely.  It was designed with low snow in mind. And a few people worked really hard to get it smoother, so it doesn't need as much snow.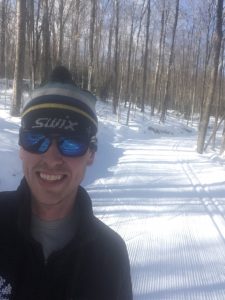 Ian skied yesterday for a couple hours and then skied at ski practice. I haven't seen many selfies from him. Ta-da, a selfie from Ian. The Burr and Burton Ski team has about 30 kids this year. They have 3 official coaches and yesterday they had a couple extra helpers. It is a great site to see so many skiers out at once skiing round and round.