ra-5a4bd91746f71523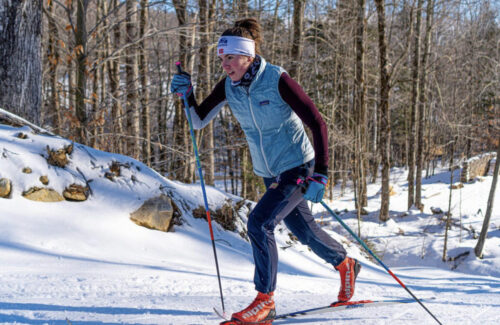 Open, 13º at 7 am and cloudy. The forecast is 28º and partly cloudy. 10 km open for classic and 6 km for skate. The Chickadee is also open for very experienced skiers. (On the Chickadee use your old slow skis, not your new fast skis, and plan on having a really strong snowplow.)
The skiing is good. The coverage is adequate but not soft and fluffy. If you are an experience Nordic skier the consensuses is, the skiing is good. If you a beginner, most people have thought is was good, a few have thought is was tricky.
An "old guy", which is what he calls himself, told me to quit talking like a lawyer, "the skiing is good." And the next person in,  new to Nordic skiing told me it was hard for her, as she had injured her ACL two years ago, and, well, it was just hard and not fun.
Then we had first timers, a family of three and they had a blast and will be back and they loved it.
So you see, this is not soft fluffy easy to ski for everyone snow. The snow is very skiable for most people. It is really fun for almost everyone. And that means when I give the ski report I might sound a little bit mixed. If you are new to skiing and it isn't right for you with the conditions we have at the moment, you can always switch to snow shoes.