ra-5a4bd91746f71523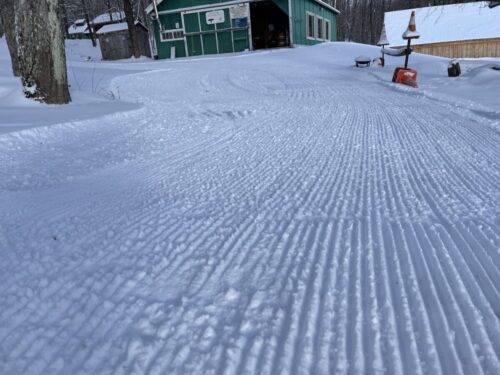 Open, season pass holders only Wed. and Thurs. -2º at 7:30am, expected high 27º. As of Friday, open for everyone. Three to 4 inches of snow on the ground. Turkey, Woodcock, Snow Goose, and Peregrine open.
The photo above is from yesterday as Ian was working. There will be lots of places where the skiing is just like this. We do not have enough snow to put in a track. Under the hemlocks on the Woodcock or Snow Goose, the coverage is real thin. Ian shoveled yesterday, more shoveling today. But, there just is not a lot of snow.
Ian said the Peregrine is in pretty good shape. Skate skis up there should be pretty good.
And after saying that, don't use your brand new skis. Use the old ones, the rock skis.
The swag is all in. Photos to come. T-shirts, sweatshirts, stickers, some Yeti travel mugs, and new Skida. I will be getting everything out today. Get here early for the best selection.