ra-5a4bd91746f71523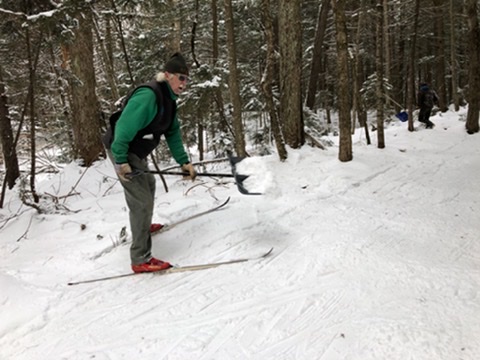 Open, 23º at 6:30am, 1/2 inch of new snow, expected high 35º. Fair to good skiing, with poor spots under the hemlocks. 1-3 inches of base. 10 km open, Turkey, Woodcock, Snow Goose, and Peregrine open. Packed trails, no track.
Ian, Dick and Cliff worked on the Woodcock and Snow Goose, shoveling snow from off the trail, onto the trail. It was a long day for them, and Ian said there are still some thin spots out there. But a big thanks to the shoveling crew!!!
Fin and friends skied the Peregrine, lots of laps, and Fin told me it was really, really, good. Cliff said new skis on the Peregrine are ok, the coverage up there is minimal, but ok. They were all on classic skis. And remember there isn't enough snow to set a track.
Perspective, is the skiing fabulous, lots and lots of snow perfect blue wax conditions? No. Is it skiing? Yes. Could it be worse? Much. Could it be better? Lots. Is it skiing? Yes. You get the point.
A little about the weather for the next few days.
Today, warm, around 35º, new snow this morning 1/2 an inch. Maybe some more snowflakes during the day. The skiing is ok to good and you may need maxiglide.
Friday, high temperature 26º, the skiing will be a little faster, but still ok to good.
Saturday, the skiing will be hard pack, slower (because of the cold temperature) and ok to good. The forecast high temperature is 1º. Use your cold weather gear and common sense. Lots of dry layers. Neck warmers and hoods. Mittens not gloves. Ask for advice if you are unsure.
And a very rare photo of Ian.