ra-5a4bd91746f71523
Open, 15º at 7am and cloudy. 34º is the forecast high and cloudy with a chance of snow. The skiing is so wonderful. A nice packed powder base with really good tracks.
Sophie flew in on Monday after finishing 3rd in the overall World Cup Sprint standings . Lilly and Sophie had a great ski on Tuesday. Sophie and her team mates gets another day off at home today, and then she heads off to Craftsbury for Spring Series. Living out of a suitcase and in hotels for 4 months has to get old. Must be nice to have your own bed, your own pillow. Even the familiar smells of your own space. No matter how wonderful life is when you go away, coming home is great!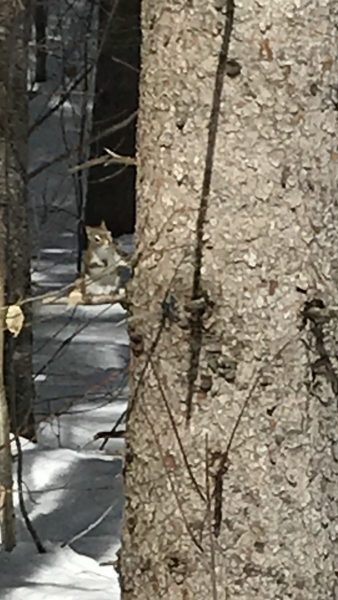 The Flood Brook JISP kids skied again on Tuesday. Lorri took the picture, while Austin, 7, chatted at the squirrel in squirrel talk. Stop and look around while you are skiing. You never know what you are missing.