ra-5a4bd91746f71523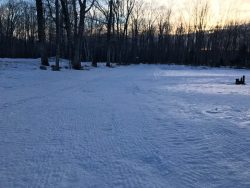 OPEN
The skiing is fast. Not for the faint of heart, not for beginners. If you are new to skiing, it is a good time to try snowshoeing.
6º at 7:00am.
Forecast high, 15º. Going to be cold. For info on dressing for the cold.
This is double pole skiing and good for klister. Fast, no tracks.
I am going to say this a different way. Beginner trails will ski at an intermediate level. Intermediate trails at an expert level. If you fall it will hurt.
If you are new to skiing it would be a great! day for a snow shoe. The sun is out, the weather is nice.
I am going to go ski the Turkey. And then I am going to get some sand to sand the path to the composting toilet.
The temperature for the weekend is 43º, Saturday and 39º, Sunday. The snow slows down when it warms up.