ra-5a4bd91746f71523
Open. 24º at 7am and overcast.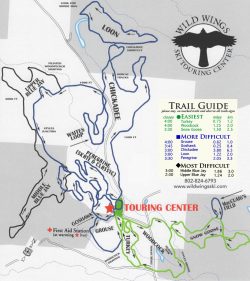 The skiing is still good, but will be faster than yesterday. The Woodcock and Snow Goose are open. Nate said skip the outer, last loop on the Snow Goose until the snow making crew has been out there. But Nate reported in the rest of the Snow Goose and Woodcock are fabulous. The Turkey, Grouse and Peregrine are also open and good skiing.
After all the good skiing talk, it will be faster today than is was yesterday. Just the nature of the beast.
Here is the official map. Cliff has been so, so helpful. Ian is pretty focused on how everything should be and Cliff and he worked on getting it right. The TrailHUB map is all up to date too. Cliff, Ian and I have learned a lot about TrailHUB in the last few days. Let one of us know if you need help with it.
The short term forecast has a short warm up and maybe a few rain drops or snowflakes. And the longer forecast is for colder with some snowflakes. Not a bad forecast.
And look we have day passes. We have never had the physical sticker, since 1974. Ta-da! I like them they are pretty cool! I know, I am being a little silly. But…