ra-5a4bd91746f71523
Open. 35º at 7am and partly sunny. Expected high 39º.
Woodcock, Snow Goose, Turkey, Grouse and Peregrine. The tracks and the packed snow are glazed. The surface is quick. I put my skis in the tracks and pushed off and slid around. Fast but very skiable. Sometimes when the tracks are glazed you are better off out of the track. Out of the track in the picture, but the photo is from last season.
The temperature tonight will go down to 20º. Which means Ian will be able to groom in the morning. And then Sunday night some sort of weather is coming in. We are hoping to end up an inch of snow, or so.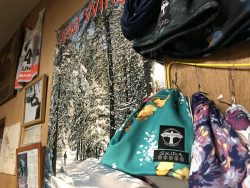 And there is a new Skida order in. Hats, neck warmers and headband. If you want a larger selection to choose from, get here today or tomorrow.