ra-5a4bd91746f71523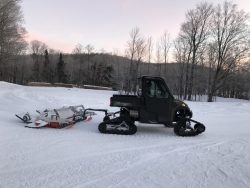 Open.  This picture is Ian grooming on 12/11/18.
20º and snowing at 7am. A dusting of new snow overnight and this morning. The temperature is expected to drop slowly all day. We might see the sun this afternoon.
Woodcock, Snow Goose, Grouse, Turkey and Peregrine are open. Ian went around and around yesterday pulling the Ginzu groomer. He said he was able to get many of the humps and bumps flattened out on the Woodcock, Snow Goose and Turkey.  With the new snow it will be pretty nice out there.
To get Middle and Upper Blue Jay and Chickadee open we need a decent snow storm.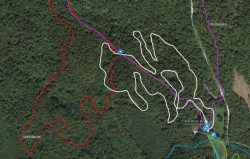 This is a GPS map of the Peregrine. The Peregine is the light color. Middle Blue Jay in red and Chickadee in pink. As you can see the Peregrine takes advantage of all the terrain out back. It skis in the area of the Old Lower Blue Jay and the Goshawk.  It is a fun, great ski. There are more ups, downs and flats. You can ski it hard and fast and wear yourself out. Or you can puzt around and look at the animal tracks. There are so many tracks up there. Yesterday I saw something with a belly drag or a tail drag.  I am skiing it 5 months after hip replacement with no problem. And I move over and let better, faster skiers past me often. As you can see the trail goes back and forth. This trail can be very social, and everyone I see up there is smiling. So if you love the Woodcock and Snow Goose they are out there and you know what to expect. If you want to to go up on the Peregrine and have any questions, just come in and ask.