ra-5a4bd91746f71523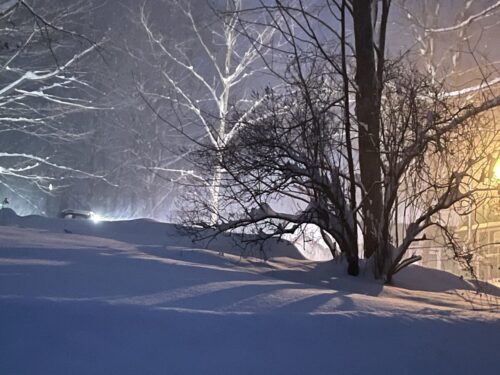 Closed today, Thursday. Open tomorrow, Friday. You will need to fill out a contact tracing form, available onsite or online. For season pass people, one contact tracing form with all the info, and then sign your name here on the clipboard each day. And masks for the parking/base area, or when you can't maintain distance from others.
13º and snowing. As of 7am we have 29.6 iches of snow from this storm. Light, fluffy, sparkly, beautiful snow. The woods are quiet. "The only other sound's the sweep of easy wind and downy flake."
The photo above; Ian in the Ranger, left in the photo, Chuck in the tractor on the right.  Plowing is going ok, although slowly. Ian is in the Ranger, not pulling anything and is struggling on the uphills. Right there in front of the barn, two tries to get up the hill.
Snow does not fall from the sky ready to be skied on. And that is why we will not open until tomorrow. Snow this light and fluffy will get packed all day, and then set up over night and skiing will be good tomorrow, but still soft. As it sets up and hardens up it will get better.