ra-5a4bd91746f71523
Wild Wings Yoga, A Southern Vermont Yoga Studio in the Woods
All classes right now are online. I will let you know when I feel safe inside with a lot of people. I am taking a small vacation, no classes October 11th through October 31st, 2021.
Wild Wings Yoga Studio is a small yoga studio located in the woods of Southern Vermont.  We are in Peru, Vermont,  a small, quaint town, 12 miles north of Manchester, off Rt 11. (Directions here.) Our studio is peaceful and quiet, a very relaxing space.
We practice a slow/vinyasa flow style of yoga, matching breath and movement. My flow classes typically include some breath work, a slow warm up, sun salutations, standing poses, balance, some core and glute work, a few bridge poses. We usually get upside down, for some people that means laying on your back with your legs up the wall. We end with some hip stretches and twists and savasana.
I would like to offer you the opportunity to find stillness and quiet in the midst of the chaos in your life by softening and lengthening the breath.
My wish is to make yoga available to all so if you have any concerns or questions, please ask.
Things You Should Know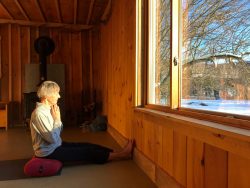 Yoga is a physical practice accessible to everyone. Please come with an open mind and do only what is good for you.
Nothing is mandatory or expected.
Start by getting on your mat. Practice and all is coming.
Wear something comfortable. That being said, cotton can become heavy when wet and baggy tops get in the way.
An empty stomach is most comfortable for practice though it is best to hydrate well throughout your day.
The room is kept warm but not hot.
Yoga mats are free to borrow but having your own mat is cleaner.
 Props like blocks, straps, bolsters and blankets are available.
Classes are designed to be accessible to everyone so beginners and intermediate students all practice together.
Arriving 5-10 minutes early is easier for everyone.
If you have a question please ask as  I am here to help you improve your practice.
General Schedule, See Yoga News for More Detail.
| | | | | |
| --- | --- | --- | --- | --- |
| Monday | 9-10:15am | Flow-Tracy | 5:30-6:45pm | Flow-Tracy |
| Tuesday | 7:30-8:30am | Sore and Stiff-Tracy | | |
| Wednesday | 7:30-8:30am | Sore and Stiff-Tracy | 9-10:15am | Flow-Tracy |
| Thursday | | | | |
| Friday | 7:30-8:30am | Sore and Stiff-Tracy | 9-10:15am | Flow-Tracy |
| Saturday | 8:30-9:30am | Flow-Tracy | most Saturdays | |
| Sunday | | | | |
Class prices: $15 per class, drop in. Class card, 10 classes/$110.
At Wild Wings Yoga I want yoga to be available to all members of our community turning no one away. If you cannot meet the class fee, please talk to me to discuss our donation-base class or a way to trade yoga for service.
 About Tracy Black, RYTE 200E
I started practicing yoga to manage back pain and eventually, while practicing Ashtanga with Jo Kirsch, the opportunity to teach presented itself. As a result my teaching journey began in 2004,  from Ashtanga to vinyasa flow, continuing to evolve and grow. Next came teacher training with Kathy McNames and since then I've studied with or completed teacher trainings with Seane Corn, Desiree Rambaugh, and Tasha Judson. Now teaching in my own southern Vermont yoga studio, my approach combines a focus on alignment with the freedom and creativity of vinyasa flow. I see yoga as a path to self-discovery and it's my intention to provide a safe space where classes encourage students to explore their own path through breath awareness and mindfulness. Expect a slow moving class with an emphasis on breath work.