ra-5a4bd91746f71523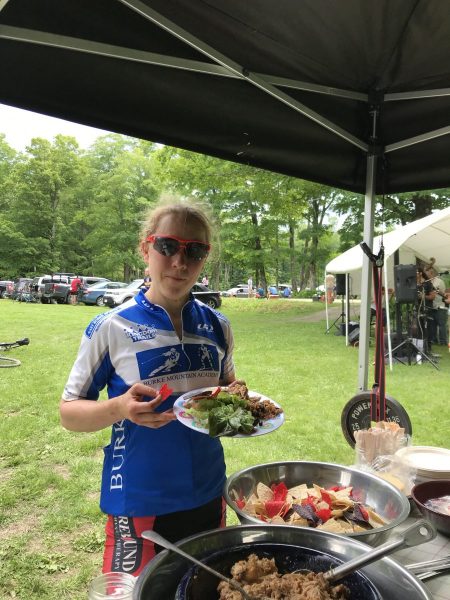 On Saturday, the 29th of June we hosted the RAS ride. The ride is a fundraiser and also raises awareness of rare diseases. The race is hosted by Marybeth and Jack Bailey parents of Shane. (See last week for a picture of the cutie, Shane.) The race starts at 9am. The race is a gravel grinder, and for those who don't know, it is pure magic for the riders, for whom, that is their specialty. It is a long haul for the middle of the pack rider. And it is "YES, I finished bring on the beer" for the, I think this might be a good idea rider. It is 42 miles of up and down. Lots of vertical. Some dirt roads, some paved roads, some mountain bike trails. A true mix.
But, there are people here at 7am starting to do registration. Ian and I parked cars until 15 minutes before race time. Getting everyone to bathrooms pre-race is another job. Then after the race starts, it is quiet. Half an hour after the race starts, the conversation begins. "When will they finish?" Well, we guessed 11:30am and the first finisher was 11:31am.
The food has to be out by then. We have hungry bikers to feed. And we need to feed the band. But, my favorite feed was the little cutie above. Ida and Patrick brought their own, cups, plates and eating utensils. Some of the other people out there reading this must remember when pot luck, meant bring your own plates, cups, and silverware. This is something we could all do and pretty darn easily. Make a commitment. No more plastic. One piece at a time.
July 1st, Monday, 9-10:15am, slow flow
July 1st. Monday, 5:30-6:45pm, slow flow
July 2nd, Tuesday, 7:30-8:30am sore and stiff
July 3rd, Wednesday 9-10:15am, slow flow
July 5th, Friday, 7:30-8:30am, sore and stiff
July 5th, Friday. 9-10:15am, slow flow
July 6th, Saturday, 8:30-9:30am, slow flow
July 8th, Monday, 9-10:15am, slow flow
July 8th. Monday, 5:30-6:45pm, slow flow
July 9th, Tuesday, 7:30-8:30am sore and stiff
July 10th, Wednesday 9-10:15am, slow flow
July 12th, Friday, 7:30-8:30am, sore and stiff
July 12th, Friday. 9-10:15am, slow flow
July 13th, Saturday, 8:30-9:30am, slow flow