ra-5a4bd91746f71523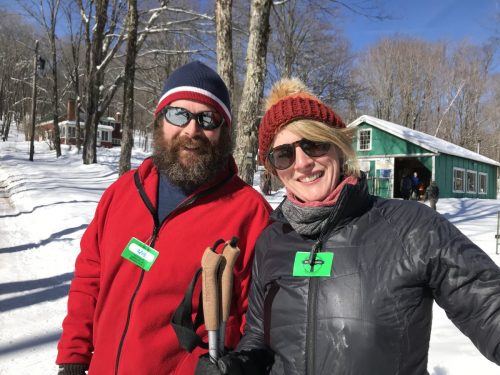 Open, 19º at 6:30 am, clear skies, beautiful moon. High today 33º and clouding up. And there was a half inch of snow overnight.
All trails open, 25 km classic tracks and an additional 6 km skate. Woodcock, Snow Goose, Turkey, Grouse, Goshawk, Peregrine, Middle and Upper Blue Jay, Chickadee, Loon and Waite's Place Loop.
Many, many happy skiers. I heard the Chickadee was amazing. The Middle Blue Jay was so much fun. The trails were/are great.
Ian went around the Chickadee three time last night with the Ranger and the Ginzu. (I know to some of you that doesn't mean anything.) And was out there at 4 am shoveling spots and putting in 2 tracks. That is really what you want to know, you can ski and it is easier to talk to your ski buddy.
He is out now in the Pisten Bully on the low trails. The skiing is really good. Hard pack, if you know what that means. Chuck said, "Just really nice skiing."
We are fortunate to be in an area where our elevation and topography gives us more. And we also work hard, to have really good skiing.
Special thanks to Cliff for the photo below. But really thanks to Cliff for all the help after I spilled coffee on my lap top yesterday morning. This keyboard for my IPad is very helpful.