ra-5a4bd91746f71523
Open for season pass holders
24º at 7am. It snowed a little over night and stuck to the wet snow. Should be ok. Watch for tree debris and wet spots.
Stay on the low trails. Woodcock, Snow Goose, Turkey. No tracks or grooming right away. We will be working to fix wet areas and then we will start grooming.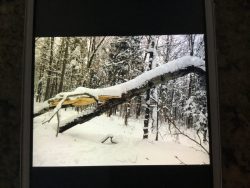 Ruth Ann, our neighbor, has been making her way around the Chickadee and Loon picking up and tossing sticks and branches. Isabel, a different neighbor, has also been tossing sticks up above. This is the beech tree Ruth Ann reported in to Ian. And Ian and Bill, other neighbor, went out, cut it up and removed it. Don't you want to be our neighbor?