ra-5a4bd91746f71523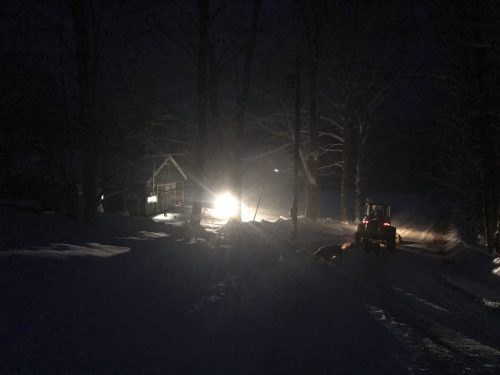 Clsoed. 24º at 7am and snowing. The plan is to have some skiing on Tuesday. Stay tuned.
We had a lot going on at 6am this morning. Ian packing out the snow and Chuck plowing the parking lot.
Chuck measured 8.3 inches of snow. Not quite enough to get skiing today. It will pack out to a nice base, but we need today's snow for skiing. More snow is still predicted.
Get your skis out, rock skis, it is still early in the season. Find your boots. Make sure everything works and plan on skiing Tuesday.
Early priced season passes are still an option. It does make a great gift. And we have new Skida/Wild Wings hats and neck warmers. (Picture tomorrow.)