ra-5a4bd91746f71523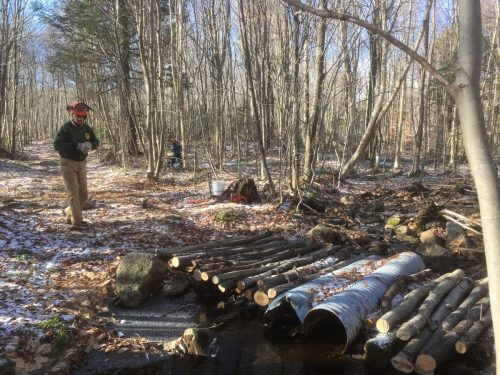 Fixing the problematic culvert on the Loon!
Closed. 7º at 7am, a red sky sunrise, and we are expecting snow. Wild Wings is in the 10″ to 20″ range. We will open as quickly as we can get the snow packed out.
And look at this fix on the Loon by Ian, Bill and Dick! Ian is hoping this will be the fix for a few years. We also worked on the Peregrine yesterday; me on the weed eater, Dick on the loppers, and Ian using the pole saw. Chuck has been putting down "corduroy" in wet spots. The weather has been cold and the ground is frozen, we always hope the freeze will come before the snow. Getting ready is always a work in progress, but we feel ready for snow.
The forecast:
Here is the link if you would like a better look.
You can still buy your early season pass.