ra-5a4bd91746f71523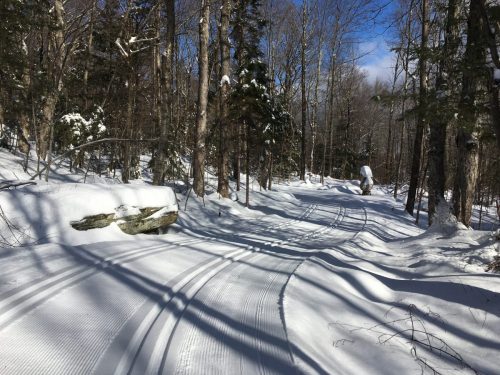 Open, 27º at 7 am and light snow. Two inches of snow overnight and light snow falling, expected high today 29º and the sun is suppose to shine.
This is what the skiing looked like yesterday on Woodcock, Snow Goose, Turkey, Grouse, Peregrine and Goshawk. Today the skiing is the photo above (arrow pointing up) with 2 inches of new snow on top. Who gets first tracks? Chickadee, Loon, Middle and Upper Blue Jay are more of a back country experience.
Skiing is really good! Bring your Maxiglide just in case. All trails are open. Feels really great to say that. Chickadee and Loon will be really nice today. I think I would choose Peregrine, Middle Blue Jay and Upper Blue Jay. That might be as good as it gets on a Thursday in February.
We have a new feature on the web site. A forum. You get to tell your story! Look at the bar on the top of the page, far right side, "skier ramblings. Here is a link to the ramblings page. You do have to register, click here. Cliff has some great ideas and the only rule is be kind.