ra-5a4bd91746f71523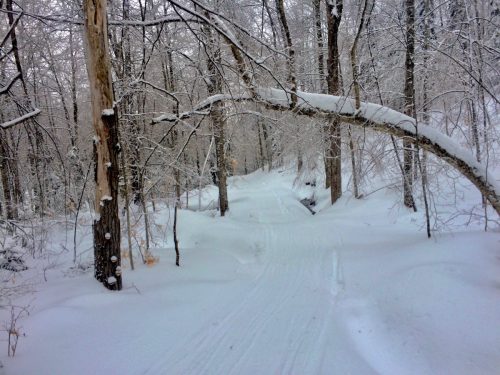 Open, 24º and clear skies. Forecast high 31º, mostly sunny. Skiing where Ian has groomed will be really good. Ian is grooming the Woodcock, Snow Goose, Turkey, Grouse, Goshawk and Peregrine and they are nice! You can ski the Chickadee, not groomed today, it will be beautiful, but a little rough.
*****Please note, NO SKATING on the Peregrine today. It is set up with a couple tracks for the race. And those tracks will be "noice".
Also, today is Fish Chowder Day. I know it isn't a National Holiday. But, here, at Wild Wings it is our own little/big Holiday. Come on over for a ski and some lunch. And thanks Dick for the fish!!!
The photo above is on the Waite's Place Loop from last Sunday. This loop is accessible from the Chickadee.
We do have a high school ski race here this afternoon. Skiing early, you will avoid the crowds. If you ski later parking will be more congested, but once you get yourself out on the Woodcock, Snow Goose or the Chickadee, you will pretty much be on your own.