ra-5a4bd91746f71523
A little peace and quiet. We all need to get out more!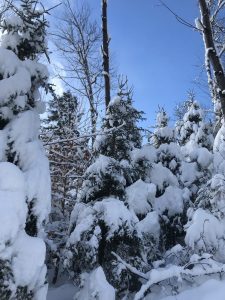 The last few weeks we have been talking about perspective. At the beginning of November when all it did was rain, Ian was so frustrated with the water sitting in the ski trails. It was easy to see why. On the other hand communities in California were burning up. We were fine. And then the temperature dropped and all the rain became snow. And we packed it into ski trails. We hadn't gotten all the fall work done, but……..the skiing is great. It is all about perspective.
This was my office today. I was picking up sticks and branches. It was a lot of work. (I didn't work anywhere near as much as Ian!) All I kept thinking was, this is how I get to spend my day. This is how I get to spend my day. Life is soooo good.
Please note Monday, Wednesday and Friday 9-10:15. Let's try this time for December and see if it fits everyones schedule better. I know time around the holidays is precious. Please remember how important your yoga practice is to your sanity.
December 1st, Saturday, 8:30-9:30am, slow flow
December 3rd, Monday, 9-10:15am, slow flow
December 3rd, Monday, 5:30-6:45pm, slow flow
December 4th, Tuesday, 7:30-8:30am, sore and stiff
December 5th, Wednesday, 7:30-8:30am, sore and stiff
December 5th, Wednesday, 9-10:15am, slow flow
December 7th, Friday, 7:30-8:30am sore and stiff
December 7th, Friday, 9-10:15am slow flow
December 8th, Saturday, 8:30-9:30am, slow flow