ra-5a4bd91746f71523
Open, 11º at 7am and mostly clear. Beautiful sunrise and one very bright planet in the early morning sky. Expected high today 29º and partly cloudy. Tomorrow warm around 40º. Friday warm and rain.
So, the plan as of today. Open, pretty good skiing today and Thursday. Closed Friday while it is raining. Then we will have to see what snow is left and reassess.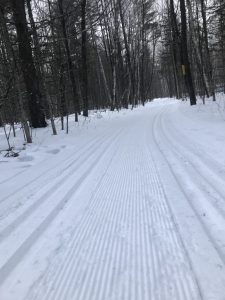 Skiing for today and tomorrow, Woodcock, Snow Goose, Turkey, Grouse and Peregrine all groomed yesterday morning and/or last night.
Pretty good hard pack skiing. Bob skied back in from the Woodcock, Snow Goose very happy with the wax he was using yesterday and the hard pack tracks allowing for excellent double pole skiing.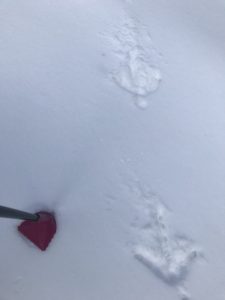 The animal tracks are all over. The inch of new snow on Monday and Tuesday allowed the animals to leave the tracks for us to see. There are so many squirrels, and hare. I saw one track that was a tunnel, so I was guessing it was a shrew or a vole, maybe even a mouse. Then, the coyote following along behind. My favorite track yesterday was the turkey up on the Peregrine in the smaller wildlife habbit cut, it had come thru after Ian groomed and was very busy looking for a bite to eat.
Remember the Soltice Party hosted by West River Sports on Thursday, the 20th, at 5:30. Pot luck and bring a head lamp.