ra-5a4bd91746f71523
Open, 10º and partly cloudy. The expected high today is 26º, with clouds and sun all day. Tonight a messy weather system moves in, starting as snow but forecast to be raining by Friday morning, and rain Friday. We won't know about skiing tomorrow, until tomorrow. Then we are back to a wait and see how it all plays out.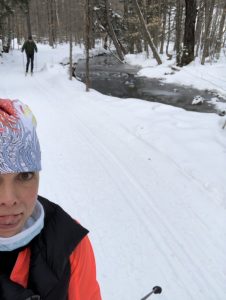 The skiing is firmly packed powder snow. A dusting of snow overnight.  Quick snow, but skiable. We had a lot of happy beginners yesterday skiing around the Woodcock and Snow Goose. Dick skied the Peregrine in just under 20 minutes yesterday and is challenging anyone 75 or older to beat his time (he thinks this is a hoot!). Bill's friend Bob then came in and skied it faster, he's 79.
If you are planning on skiing, get out there today. We just don't know about the weather.