ra-5a4bd91746f71523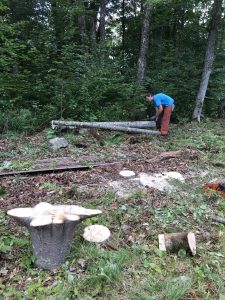 We had a great spring! A wonderful summer. And one of the most beautiful falls anyone remembers.
The weather providing great opportunity to get chores done. Ian cleared brush in the new field. Another 12 feet along the east edge of the field! Bigger loops in the field, classic and skating! He is trying to get the field less bumpy, so we can ski on less snow.
We need a new snow cat shed. The other shed wasn't big enough! The old shed is down and the new shed goes up. That sentence makes the process sound easy.
The vegetable garden was great this year. The pumpkins were the best crop. And we are still eating brussel sprouts and kale.
And the foliage. It wasn't in a hurry to arrive. But, when the color started it lasted about 3 weeks. And around every corner the color was more spectacular.
And mowing ski trail. Which I love doing!!! I mow the Middle and Upper Blue Jay with a weed eater. Chuck does the Turkey, Woodcock, Snow Goose, Grouse and Peregrine with the tractor and a flail mower. Dick works with a weed eater and mows the Loon, and Chuck and Dick work together to get the Chickadee mowed. We still have Waite's Place Loop to get to.
If you made it this far down the post there are a few details we are working. The  season pass offer being one. Info to follow soon. And wood spitting is going on. All of our firewood for the barn and the house are stacked inside and ready to go for the winter.