ra-5a4bd91746f71523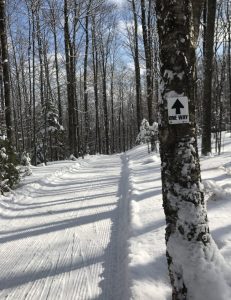 A dusting of new snow overnight. The skiing is really, really good. A shot of the down track above.
In case you missed it I posted a video on Facebook, here is the link, skiing down the "down track".
The 10km that are open are great. The 6+ inches of new snow was fabulous, but not enough on top of the other hard snow to get the longer, harder, bumpier trails open. If the forecast is correct and next Tuesday we get 3-5 inches of snow at 31º that will help us get the Upper and Middle Blue Jay going again. The Chickadee??? we keep trying to talk to the loggers but have had no luck.