ra-5a4bd91746f71523
Open, -1º at 7am. Expected high today, 16º. Warmest part of the day right around noon . We have a great stretch of weather ahead of us. Ian re-groomed last night pieces of the system that would benefit from grooming.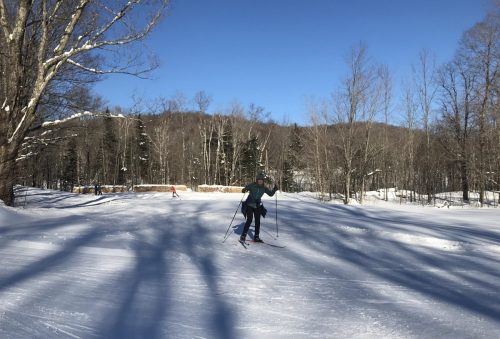 Today is a repeat of yesterday. And yesterday was phenomenal. The temperature is manageable. The sky is amazing. The trees are gorgeous. Everyone having a wonderful day. Skiers dressing well, no one cold. The skiing is so good, skiers skied enough to warm themselves up. And the layers were removed. Plan on today being the same. Warming up all morning, and about 2pm the sun starting to get low, and the temperature starting to drop. Have a couple layers close to add back on.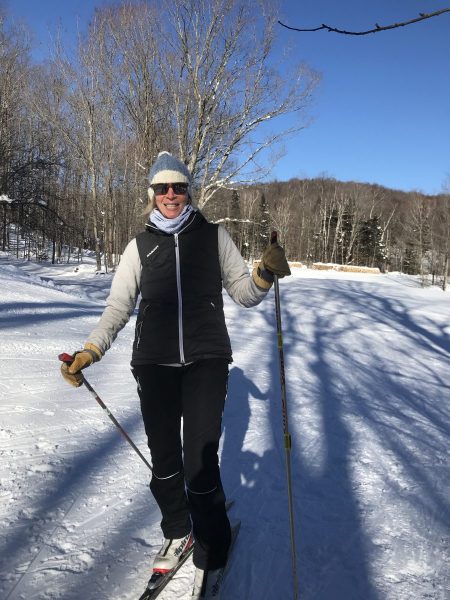 We saw many old friends yesterday. First visit of the ski season for them. Lots of Chickadee lovers. Well, the downhill is different. First major change on the downhill since 1974. The downhill is the same until about half way down, and then, there is a turn to the right, and you get to finish on the Peregrine.
If you haven't been keeping up, the Peregrine is a new trail this year. 3.3 km of skating and classic. Designed by Bill Koch and Ian Black. Built by Cameron Chalmers, Ogden and Chalmers Landscaping. And the finish build done by a large crew of volunteers. You can tell the volunteers by their Team Peregrine hat.
We have been open and skiing for 38 days. (48 days for season pass holders). So we are thinking everyone has been here, and we don't always remember to tell you about the changes. If you have any questions please ask, we love to talk about the new trail and the exciting changes we've made!