ra-5a4bd91746f71523
Open, 13º at 7 am and sunny. The forecast is as fabulous as the skiing. High of 25º, and sunny, and the skiing is really, really good.
All trails are open, 25 km classic and 6 km skate.
With the high temperature in the upper 20's, new snow last night and the sun shining in late February, you better bring your Maxi Glide, or Swix F4. This is a product for waxless skis, to keep the new snow from icing onto the waxless ski. It is used on the ski from tip to tail.
If you are waiting to ski, I am not sure what you are waiting for. The skiing really does not get better.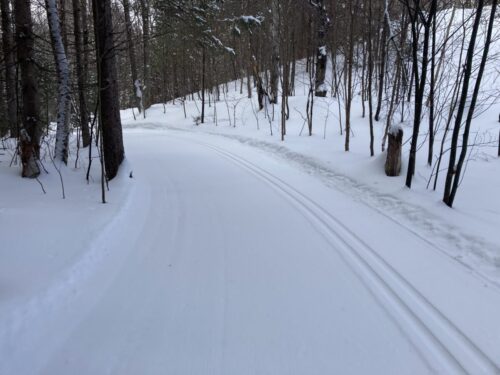 And there are lots of animal tracks out there right now, and a tiny bit of new snow helps see the tracks easily. Coyote, fox, squirrel, rabbit and moose are what I have heard or seen in the last few days.