ra-5a4bd91746f71523
Open, 16º at 7am. 2.6 inches of new snow. The forecast high today is 34º with a wintry mix continuing to fall. Because of the wintry mix we will not be grooming today. Today is the day you get to ski in beautiful new snow.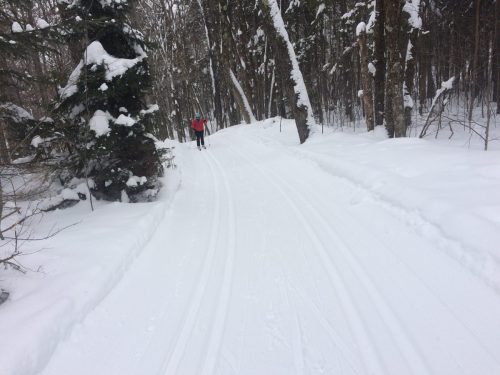 11.4km open, Woodcock, Snow Goose, Turkey, Grouse, Goshawk and Peregrine. We won't be grooming until the weather settles down. With the wet rain and sleet mixed in we will come out ahead to wait until the air and temperature cools back down. I will let you know.
Yesterday Dick and Ian worked on the Chickadee. I am not making any promises, but maybe Ian can get around the Chickadee after this extended bit of winter weather. The work on the Chickadee involved covering wet spots, usually with pine boughs, but this time with the broken shovel. Oh, the good old shovel. Dick told me he'd had that shovel, for 10 years. It was a good burial. And then covered with snow.