ra-5a4bd91746f71523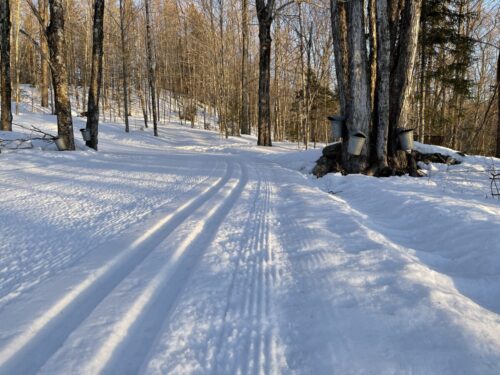 Open, 21º at 8 am, sunshine and blue sky. Forecast high 46º and mostly sunny. Today is good spring skiing with nice corn snow. Ian has been out grooming, and the temperatures and sun will warm up and soften the snow.
The Woodcock, Snow Goose, Turkey, Grouse, Goshawk and Peregrine are all a good ski. Also open, Middle and Upper Blue Jay which were groomed yesterday afternoon while the snow was a little soft. Ian was scraping out the ruts and mixing the pine needles into the snow. He said they look good. He is going to take the snow mobile around the Chickadee after the temperature warms up a little, so the Chickadee will also be open, just a little later in the day. Ask if you are in have any questions.
Tomorrow, Thursday, we are expecting rain. If it really rains, we will be closed. Thursday night the low will be 15º and Friday the high is expected to be 29º. Friday we will be open, low trials only again, after Ian grooms everything with the PistenBully. The weekend looks like good spring skiing and sap running weather, sunshine on Saturday and Sunday.