ra-5a4bd91746f71523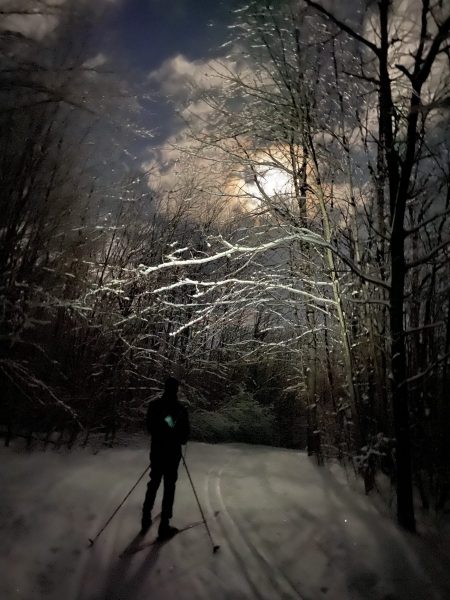 Open, 25º at 7 am. 1″ of new snow this morning. Forecast, high temperature 35º, and snow to mixed precipitation, the forecast says 2 to 4 inches more of new snow. We are skiing on an inch of new snow in really nice tracks. Yesterdays pick of the day, Chickadee/Loon.
20 km open, 6 km of that also has a skate lane. No Middle Blue Jay yet, still some shoveling to do.
Another really, really nice day for a ski. Yesterday I wrote that the Chickadee was fabulous. Ian told me it was fun, but not fabulous and he edited it on here. Guess what a whole bunch of you all skied the Chickadee, Loon and Upper Blue Jay and came down and said, "Fabulous", "Wonderful", "Great Skiing", "So Nice" and "Fun"!
Today with the new snow the skiing will be a little bit slower, you will need Maxiglide because of the new snow and the around 32º temperature. But it is great skiing and beautiful out there!
And now some more pictures from the weekend.
The photo above and below are thanks to Mary, and from the moonlight ski/potluck they hosted here on Saturday night.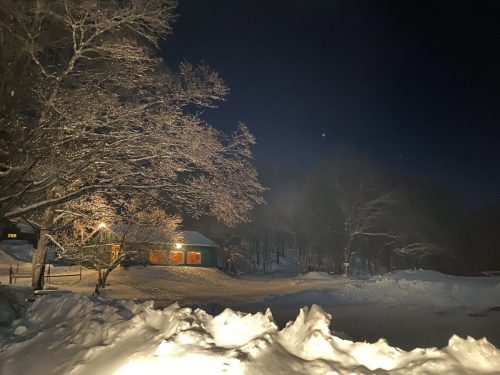 Many littles on Sunday. A great day for all! Photo credits below Anna. Thanks for the help Mary and Anna with the photos!