ra-5a4bd91746f71523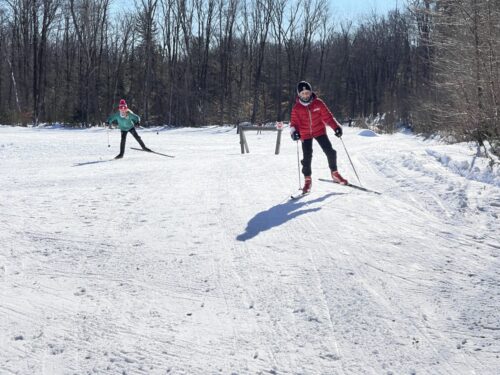 Open, 4.2 inches of snow as of 6:30am, and 22º. Snow expected (may mix with sleet and or freezing rain) all day. We will do minimal grooming today on the lower trails. Woodcock, Snow Goose, Turkey, Grouse, and Peregrine. Please drive safely.
This new snow will help. But, it doesn't fall ready to ski. And given the forecast we can't pack it down tight today. We will do minimal grooming, so tomorrow morning it will groom out with a beautiful track and a nice firm skating lane. At least that is our goal, God willing and the creek don't rise.
Today's high forecast is 34º, tonight's low 10º and tomorrow's high 13º.
Yesterday's skiing was fine, and Todd told me it was actually better than fine.
We had a busy kid day, and they are at a good age! Skied many kilometers, some on trails and many, many trips up and down the hill.