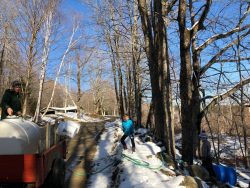 Open, 25º at 7am. Forecast high 27º. And the forecast is for snow.
We are open and the skiing surface snow on the ground this morning is crunchy. New snow is already falling, a half inch, all ready, and the new snow will make the skiing good.
Skiing yesterday was fantastic! And jumping on this hill, always a hit!
We... read more