ra-5a4bd91746f71523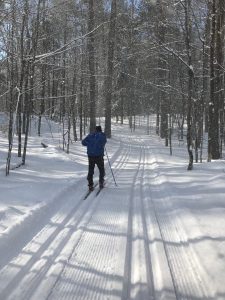 At Wild Wings…
A converted horse barn houses our rental shop and warming room. We have rentals to fit all sizes: skis 70 cm. to 210cm and boots from kids size 9 to adult size 15. We also rent snowshoes. Bring your younger children along and ski while they enjoy the ride behind you in a pulk sled.
Trails
Simple yet entertaining loops comprise our trail system. You won't need to check the map every few minutes. All of our trails are one way, ensuring you won't run into anybody and giving a sense of solitude, but you're never truly alone on the trails. See our Trail Map.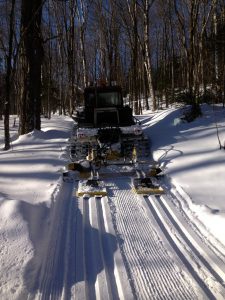 Green Trails
The beginner trails at Wild Wings offer gently rolling terrain alongside forests, brooks, and beaver ponds.
Blue Trails
The intermediate trails have more hills than the beginner loops. You need to be confident in your ability to herringbone and snow plow to ski these trails.
Black Trails
The most difficult trails add even more and steeper hills. To ski these trails, you need to be able to herringbone, snowplow, and turn while descending.